2 Minute Read: 
Do you despise flossing even though your dentist tells you to? 
According to recent statistics, you're not alone. A survey from the American Academy of Periodontology suggests that twenty-seven percent of adults lie to their dentists about how frequently they floss. The same survey uncovered that over a third of people would rather participate in annoying activities like toilet cleaning, sitting in bumper-to-bumper traffic, or listening to small children crying on a plane.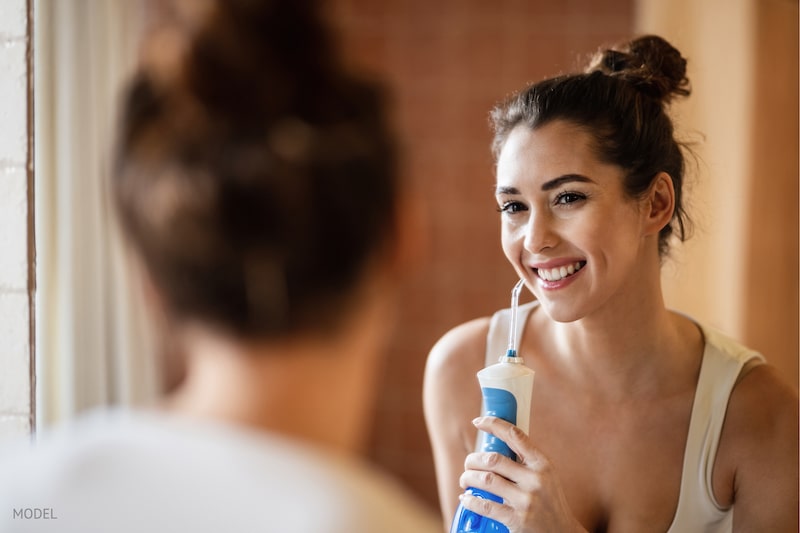 Even though flossing is a highly disliked activity, it is vital to your oral and overall health. Therefore, water flossing might be the solution dentists and patients have been looking for. Water flossers are easy-to-use devices that benefit dental patients of all ages.   
What Is Water Flossing?
Water flossers use a pulsating stream of water to remove food and other debris between the teeth. There are several different water flossing devices on the market today, and most offer different pressure settings for optimal control. 
Water flossing can massage and stimulate gum tissue to improve circulation and promote healing while removing plaque.
Is Water Flossing Good for Braces?
Water flossing is an excellent choice for dental patients who have braces. Most water flossing devices include interchangeable pick tips that provide an extended range for hard-to-reach areas of the mouth. This is especially useful for children with braces who eat foods that become lodged into their teeth. Older patients with braces can also benefit from water flossing because most devices are ergonomic for improved dexterity. 
Can Water Flossing Loosen a Crown or Bridge?
Water flossing will not loosen a ceramic crown or dental bridge secured by a dentist. In fact, water flossing can make flossing your restorations less challenging by knocking away food and bacteria that get trapped under and around their surface. Unlike traditional floss, water flossing shoots streams of high-velocity water between the teeth, adapting to most dental restorations.
Is Water Flossing a Good Alternative to String Floss?
In cases where it can be a challenge to get patients to use traditional floss, water flossing is a great alternative compared to no flossing. However, water flossing is not a replacement to brushing at least two times a day and manual flossing once a day. Generally, it is recommended that water flossing be used as an extension of good dental hygiene habits already in place. 
Consistent water flossing and manual flossing are helpful ways to maintain your teeth and gum health in addition to brushing and regular dental cleanings.  
Want to Learn More? 
If you have questions about water flossing and proper dental hygiene, please contact La Jolla Cosmetic Dentistry & Orthodontics at 858-295-0603 and receive professional education and assessments with Dr. Kohani. Schedule a consultation today!