2 Minute Read: 
One of the fastest and easiest ways to improve the appearance of your smile is to have them professionally whitened, and if you have extrinsic dental stains that developed over time, this treatment alone can be highly effective.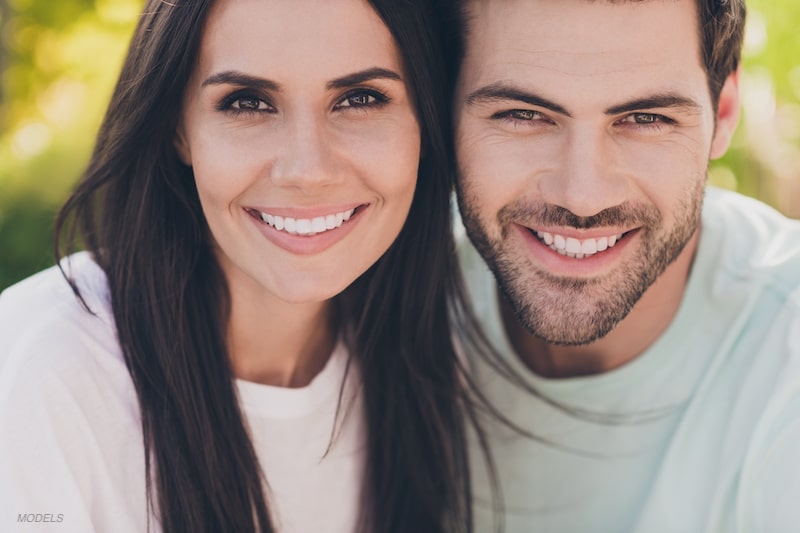 However, in some cases, porcelain veneers may be needed to complete the transformation of your smile.
What Can Teeth Whitening Accomplish?
Professional teeth whitening can be received as an in-office or at-home treatment. Each has its advantages:
Professional in-office teeth whitening:
Only takes about one hour to complete

Provides

instant teeth whitening

Delivers

dramatic results
Professional at-home teeth whitening:
Far more effective than

over-the-counter teeth whitening

systems

Conveniently whitens teeth according to your schedule

Includes custom whitening trays for maximum coverage

Usually less expensive than in-office teeth whitening
Professional teeth whitening effectively treats extrinsic discoloration due to the consumption of highly pigmented beverages like coffee, tea, and dark fruit juices, as well as tobacco use. 
Teeth whitening cannot remove intrinsic dental stains caused by illness, medications, or genetics.
What Porcelain Veneers Achieve?
Dental veneers are thin ceramic shells that can treat several cosmetic dental conditions, including the following:
Teeth with intrinsic dental stains that resist teeth whitening

Misshapen or worn-down teeth 

Broken or chipped teeth

 

Teeth that are uneven

, misaligned, or have minor gaps between them
It takes two dental visits to complete the process for custom porcelain veneers. The first visit involves your dentist preparing the teeth and obtaining a precise impression. 
This impression is sent to the lab to create the veneers, which should be ready in approximately two weeks. 
During your second visit, the dentist carefully applies your custom veneers to produce a stunning smile.
Combining
Teeth Whitening With Porcelain Veneers
If you have extrinsic dental stains on all your teeth and cosmetic damage, gaps, or mild misalignment on a few, or even just one, you may be able to treat the stains with teeth whitening and only use veneers on the teeth that need them.
This can be more cost-effective than opting for porcelain veneers for all your visible teeth.
Whether you choose in-office or at-home teeth whitening, porcelain veneers, or a combination of both, these cosmetic dental options can help you achieve a whiter, brighter smile that you'll be proud to show off.
Looking for
Cosmetic Dentistry
Services in
San Diego, CA
?
Dr. Kami Kohani provides a wide range of expert cosmetic dental treatments like teeth whitening and porcelain veneers in San Diego, California. He also offers a full menu of tooth restoration options (including dental implants, dentures, and implant-supported dentures) and general dentistry services for all of your and your family's dental needs.
His team is helpful and friendly, and if you'd like to learn more about customizing your smile, they welcome your questions. 
Call (858) 622-1007 today!