3 Minute Read: 
In the world of cosmetic dentistry, veneers are used to conceal flaws or staining on visible teeth and are the treatment of choice for most individuals who want to improve the appearance of their smile. 
Dental veneers have earned their popularity as they can quickly and effectively transform damaged or discolored teeth into a Hollywood smile.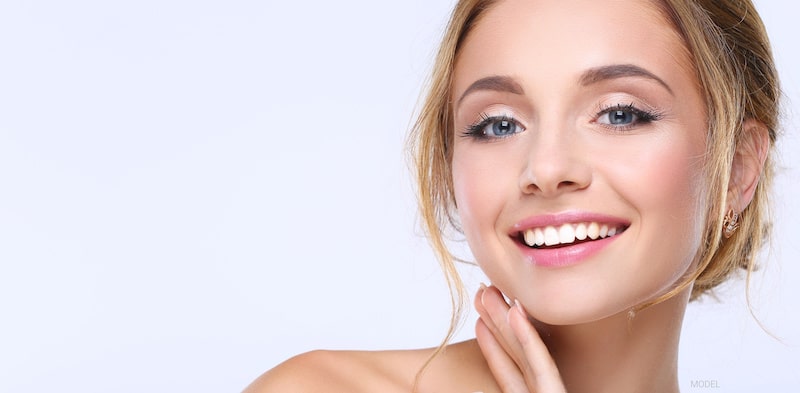 If you are interested in veneers, you have options and can choose from traditional porcelain or composite veneers, often referred to as dental bonding.
How Can Dental Veneers Improve Your Smile?
Veneers are designed to fit over your natural teeth. They address the following cosmetic dental concerns:
Chipped teeth

Teeth with minor cracks

Whitening-resistant tooth discoloration

Teeth with small gaps

Small or worn-down teeth
By reshaping teeth and covering up dental imperfections, dental veneers offer a minimally invasive treatment for a brighter, uniformly beautiful smile.
Traditional Porcelain Veneers
Porcelain veneers are ultra-thin ceramic shells typically created in a dental lab from a precise impression of your teeth.
These dental prosthetics require two visits spaced a few weeks apart and often follow a teeth whitening treatment so you can choose a whiter, brighter shade for your veneers.
First visit

– You and your dentist will work together to choose the best color match for your natural or whitened teeth. Each tooth that will receive the veneers is prepared by the dentist by removing some of the enamel before obtaining an impression of your prepped teeth.

Second visit

– The prepared teeth will have the custom veneers placed one by one and adjusted, if necessary, for your new whiter and well-balanced smile.
Composite Veneers or Dental Bonding
Composite resin veneers are used to resurface and remodel teeth, much like porcelain veneers. However, the process is quite different. 
This option can be completed in only one visit with four simple steps.
Color matching

Easy prep

Application

Reshaping
After color-matching the resin to your teeth, the dentist will apply a special solution that will ensure proper adhesion but will not alter your teeth's structure.
The composite resin is applied to the surface of each tooth to build them up or fill gaps. They are designed to replicate the surface of healthy, attractive teeth. 
Which Dental Veneer Option Should You Choose?
When deciding which method is best for you, consider these facts:
The cost of porcelain veneers and dental bonding

– Composite veneers or dental bonding are far less expensive than porcelain veneers.

The dental veneer process

– Porcelain veneers generally involve two appointments and the reduction of natural teeth. On the other hand, composite veneers can be completed in just one visit, and the structure of your natural teeth is left intact.

Veneer Durability

–

Composite veneers last

five to seven years and are more vulnerable to chipping or staining than porcelain. However, you can take steps to prevent discoloration, and if they chip, composite resin veneers can be easily repaired.

Porcelain veneers can last

up to 15 years and are resistant to staining and most chipping. However, if they do become chipped, the entire veneer will need to be replaced.

Aesthetics

– Porcelain veneers are

stain-resistant

and reflect light like natural teeth. Dental bonding can achieve a

natural appearance

but doesn't reflect light and is prone to discoloration.
The Bottom Line on Dental Veneers
Porcelain veneers are best to transform your whole smile, while bonding is an excellent choice to conceal minor imperfections and improve the uniformity of teeth.

Composite veneers cost less than traditional veneers and offer significant cosmetic improvement for almost everyone.

Porcelain veneers last

more than twice as long as dental bonding and resist chipping and staining. 
Porcelain Veneers and Dental Bonding in
San Diego, CA
At La Jolla Cosmetic Dentistry and Orthodontics in San Diego, you can count on Dr. Kohani to provide you with natural-looking veneers to improve your smile, regardless of the option you choose.
Learn more about porcelain veneers, dental bonding, and the other cosmetic dental options La Jolla Cosmetic Dentistry and Orthodontics provide.
Call (858) 295-0603 to reach our San Diego, California Dental Office and schedule a consultation.