5 Minute Read: 
Right now, many men and women who should be visiting their dentist for routine check-ups and dental restoration procedures are putting their much-needed treatment off over COVID-19 concerns.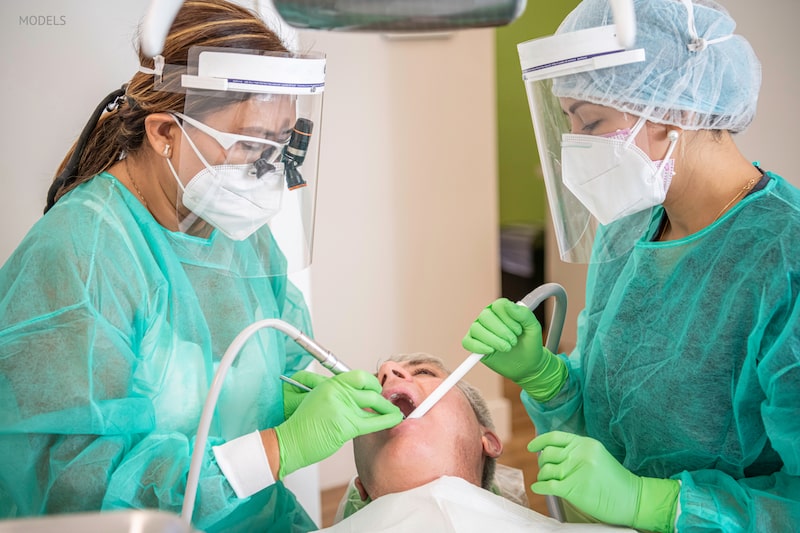 This is understandable, as most people are trying to do whatever they can to keep themselves, their families, and their communities safe. 
While we relate to where your nerves are coming from, your dental health is important too, and, as your oral health is connected to all aspects of your overall health, you may be doing yourself more harm than good by postponing your treatments. 
Like everything right now, it is important to do your research to ensure that the dentist you choose is the best one for your needs. This is why it is important to search for the best cosmetic dentist in your area. 
If you are looking for a dentist in San Diego, you need to look no further than La Jolla-based dentist Dr. Kami Kohani. Dr. Kohani and his team at La Jolla Cosmetic Dentistry & Orthodontics have proven to be some of the best cosmetic dentists in San Diego and are here to serve you with all of your cosmetic, general, or orthodontic needs.
What Is La Jolla Cosmetic Dentistry & Orthodontics Doing to Keep Me Safe?
Dual Screening
Two days before your dental appointment, you are prescreened online with a series of questions. Then, according to ADA/CDA guidelines, you will be screened again the day of your appointment when you arrive at our office, at which your temperature will be taken. 
We take all of our patients directly to their treatment room after their screening process.
This screening not only applies to you. Every member of our staff is screened daily, and if they display any symptoms of the virus, they are not allowed to come in until they present a negative test result. 
At La Jolla Cosmetic Dentistry & Orthodontics, we are very strict about who we see and allow into the office. No person with any symptom (patient or staff member) is allowed into the office without a negative test result.
Thorough Disinfecting
We understand that the best way to prevent the spread of the virus in our offices is by meticulous cleaning and disinfection. 
To do this best, we:
Use a medical-grade filtration system in every treatment room

Make and use HOCL, which is an all-natural disinfectant that kills the COVID-19 virus—we use this in our double disinfecting process and diffuse it throughout the office, including reception area
Proper PPE
For your health and safety, as well as the safety of our staff, we utilize all forms of PPE, including:
N95 masks

Double masks

Face shields

Gowns
Fewer Appointments
To help prevent the spread of COVID-19, we are staggering appointments (to reduce potential exposure and contact) and see fewer patients. This keeps our office at a minimum capacity and prevents multiple people in treatment rooms and reception area at any given time. 
Additionally, we are minimizing any potential spread due to shared materials. Therefore, you will complete all of your forms electronically from your smartphone (to prevent shared pens, clipboards, etc.) or an office tablet (which is thoroughly disinfected after each use). We have also removed all shared items from the waiting rooms (such as magazines and tissue boxes). 
Your safety and the safety of our staff is our top priority, and you are in good hands with La Jolla Cosmetic Dentistry & Orthodontics.
Who Is Dr. Kohani?
For nearly three decades, Dr. Kami Kohani has provided top-of-the-line dental and orthodontic treatment for men, women, and children in the San Diego area. 
With training from the University of California, San Diego (UCSD) and the University of California, Los Angeles (UCLA) and membership with the International Academy of Dental Implantology (IADI), Dental Organization for Conscious Sedation (D.O.C.S.), American Dental Dental Society (ADA), and California Dental Society (CDA), Dr. Kohani has earned himself local and international recognition.
Dr. Kohahi works tirelessly to provide a comfortable, safe, and inviting atmosphere for all of his patients and holds several patents in dental and orthodontic fields.
Why Should I Choose La Jolla Cosmetic Dentistry & Orthodontics?
For many individuals, going to the dentist can be a stressful and trying time (even when there isn't a pandemic around). That is why it is essential to have a good personal relationship with your dentist and their team. 
This is exactly what La Jolla Cosmetic Dentistry & Orthodontics have strived for since their establishment in 1992. With honest and compassionate opinions, meticulous attention to detail, and years of training with the most advanced dental equipment technology, they are ready to help you achieve and maintain your optimal dental health.La Jolla Cosmetic Dentistry & Orthodontics has a 5-star rating on PatientConnect365 and a 4.8-star rating on Google, making them one of the most trusted and best dentists in San Diego.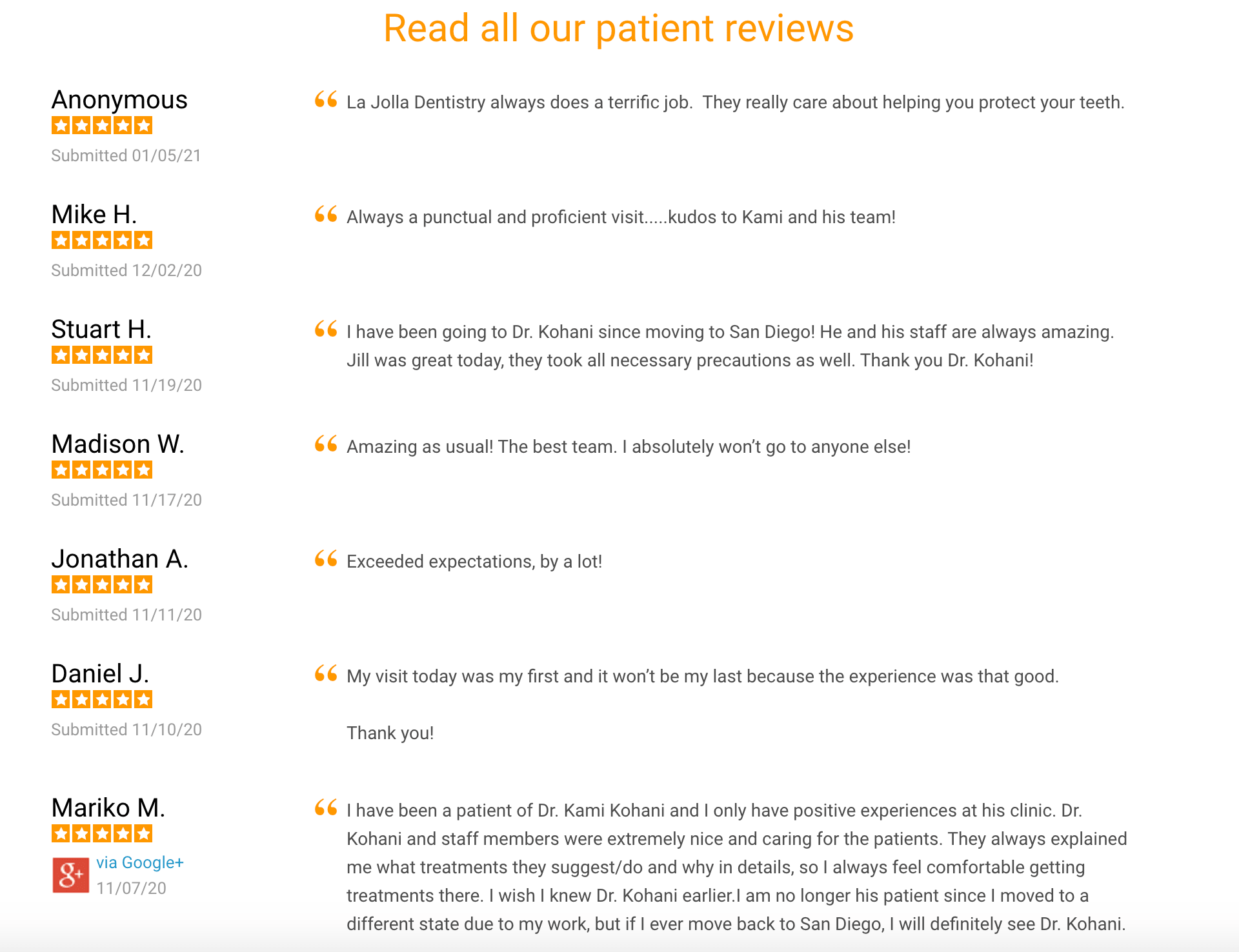 You can view more testimonials on our website here.
Why Should I Visit My Dentist During COVID?
Going to the dentist is just as—if not more—important now than ever before. Studies have shown that those with periodontal disease and poor oral health may actually be more susceptible to severe COVID-19 superinfections.
Maintaining your dental health with general care (including cleanings) has the power to do more than just keep your smile beautiful. It has the power to help keep you safe and your body healthy.
Interested in Learning More?
If you need an emergency dental procedure, are interested in restorations like crowns or dental implants, or wish to have a deep cleaning, contact Dr. Kohani and his team at La Jolla Cosmetic Dentistry & Orthodontics. 
Give us a call at (858) 295-0603 or fill out our online contact form to schedule a consultation.